At ThinkB!G, we are excited to bring you a year of new courses, new skills, and new success!
Today we are launching our 2018 Social Media for Government Training Course! Social Media is now fast becoming a critical channel for communications, internally and externally. Our two-day, hands-on training course is designed for Government users to get skilled on Social Media!
Social Media for Government Training Course - Join us for our latest course offering, and you will learn the government social media best practices, practical applications, and standards. Explore overall social media goals, content strategy, platforms and content appropriate for your target audience, keyword research and applying SEO for all government social media posts. Gain an understanding of how to monitor accounts, use Google Analytics Social Reports to track social media metrics, and how to ensure your social media content meets Section 508 Accessibility.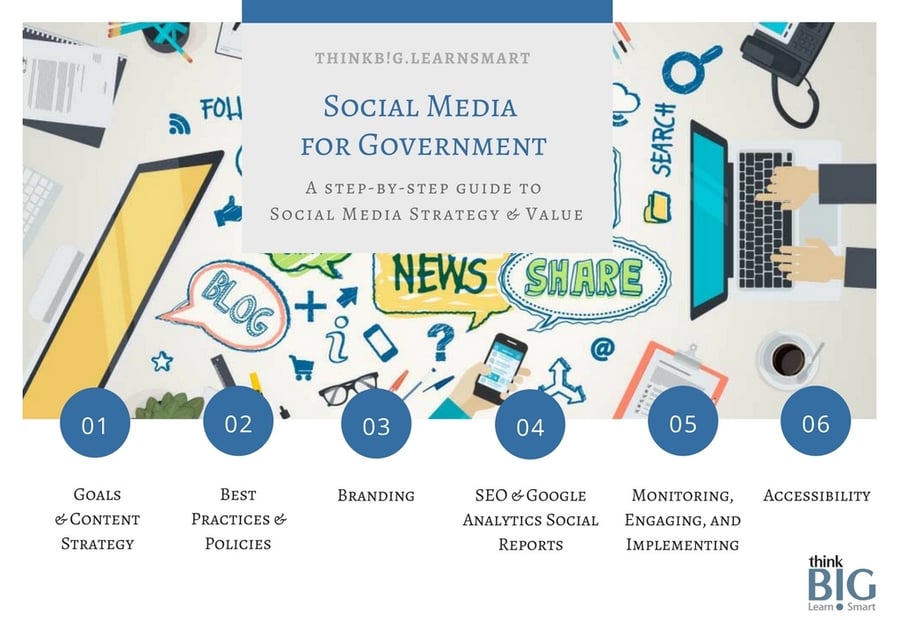 WHAT
is Social Media for Government?
Social Media is the method in Government used to distribute content to online communications platforms, including its use for agency-wide communications with the public, as well as community-based input and feedback, interactions, news, and sharing of content!
WHY
Use Social Media for Government?
Ease of Communication
Spreads Information
Better Citizen Engagement & Customer Service
Brand Recognition
Emergency Response
and many more!
Government Agencies,

Commercial,

Non-Profit, and Education Institutions
Citizens & Individuals use social media for personal or professional use to locate, share, and/or receive information
Public Affairs Specialists, Social Media Managers, Social Media Specialists, Social Media Coordinators, Communication Specialists, New Media Specialists, Digital Marketers, Web Developers, Social Media Writers, and others
Are you

interested

in Social Media for Government Training?
Read our Course Outline, and View our Public Class Dates for 2018, by clicking "Learn More"!
Private Classes are Available Onsite, Online Live, or In Person at ThinkB!G. Click "Get a Quote" and Submit the form with your request!
Please leave a comment about what you are most interested in learning from this course!