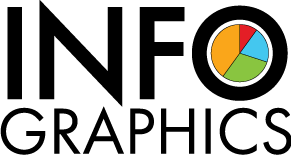 There is so much information coming at us that it can be difficult for marketers and educators to break through the clutter and connect with their target audiences. Infographics are a data visualization tool that communicates complex information quickly in a way that's easy to digest and engaging. Whoever coined the term "a picture is worth a thousand words," may just have been the forefather of this powerful tool.
Infographics translate numeric information, big data, and statistical trends using icons, visual cues, charts, and maps. Creating an infographic forces the presenter to simplify information so they can show their audience rather than tell them key facts. Don't worry if you're not an artist: although a graphic designer can help you create custom information graphics, you can also take our 2-day Creating Visual Content with Infographics training course and learn how to create them yourself using Adobe Illustrator!
No matter what industry you're in, you can use information graphics to strengthen your presentations and help "non-numbers folks" understand big data. If you aren't sure how you can use infographics in your field, take a look at our recommendations below:
I'm a Graphic or Video Designer …
We know. You're ahead of the curve because you can probably make your own infographics. Whether you're designing on the web or for print, use this tool as a complement to your design capabilities. Suggesting an infographic or infovideo as part of your customers' design packages is a great way to differentiate yourself in the market. You can also use this tool to augment your portfolio and communicate your unique value proposition as a professional designer. Show how video and design can increase your clients' ROI and boost engagement or how visual cues can positively influence sales psychology by rendering information trends into a quirky fact sheet that can accompany your rate card. That's what we call walking the walk.
I'm an eLearning Developer or Online Trainer …
Infographics and eLearning go hand-in-hand. Thanks to their concise nature, information graphics are a great way to ensure your online learners absorb the most relevant information. Online trainers are always combatting their students' temptation to multitask and surf the web alongside their mobile learning session. Because infographics are usually visually appealing and always to the point, they help keep students engaged (and in tune with the important information even when they aren't). Instead of dense slides filled with tables and numbers that take energy to decipher, information graphics do the heavy work for your students so they can focus on absorbing information rather than decoding it.
I'm a Social Media Specialist …
In social media, content is king. Information graphics serve relevant, useful information that is as shareable as it is fun. Don't be afraid to put a little humor in your infographic when illustrating how the internet of things has revolutionized the marketing industry or presenting trends in the online dating world. Because an increasing number of social media users are interacting with social platforms on their mobile devices rather than their desktops, visitors are more likely to read, share or save an infographic than an article they need to scroll through. And who knows, your information graphic may just go viral.
I'm a Market Data Analyst …
Big data doesn't need to be so daunting. Information graphics can break your findings down by demographic, region, gender and more. Show relative size of an audience or survey responders. Create a heat map of your target audience. Show usage trends for certain customer archetypes. The sky is the limit when market data and infographics combine. Use them to present both internally and externally. Your senior leadership will thank you later, we promise.
If you still aren't sure how information graphics and transform your industry, sign up for our Infographic Essentials class on finding inspiration, using and creating inforgraphics in Adobe Illustrator. We offer tips and tricks on how to make them impactful and relevant to your audience. Whether you're a seasoned infographic veteran or a recent convert, this course can help build your skillset and give you a forum to share and learn new ideas.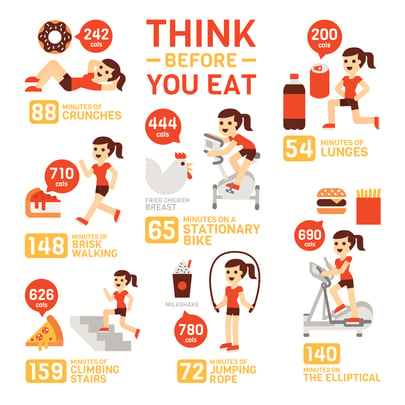 Here is an example of an infographic being used by a wellness company to illustrate calorie burn in a unique and eye-catching way.

A government agency used this infographic to help illustrate job reform.