As your Apple Authorized Training Provider, ThinkB!G.LearnSmart has released some updated courses!
ThinkB!G now provides Apple Certification Packs for Support Essentials 10.13 - High Sierra, Final Cut Pro X 10.4, and Logic Pro X 10.3. These packs include an Apple Official Exam Preparation Guide, Exam Voucher (In-Person, scheduled at your convenience within 1 year from date of purchase), and a Testing Proctor Fee (Only if you take your test at ThinkB!G's office, as we are a Pearson Vue Testing Center, in Columbia, MD).
Upon purchasing your Apple Course, choose the Certification Pack option in the pricing dropdown to receive the training and exam voucher bundle.
Private, Onsite, and Custom Apple classes are available upon request.
To give you an at a glance view of the Apple Authorized courses we offer, below is an Infographic with each Apple training course we offer and short descriptions about what you will learn. Official Apple Certifications are available for most courses offered.
This guide can help you determine what Apple Training & Certification courses you may be interested in! You will see that ThinkB!G offers all of these training courses on their 2018 Class Schedule!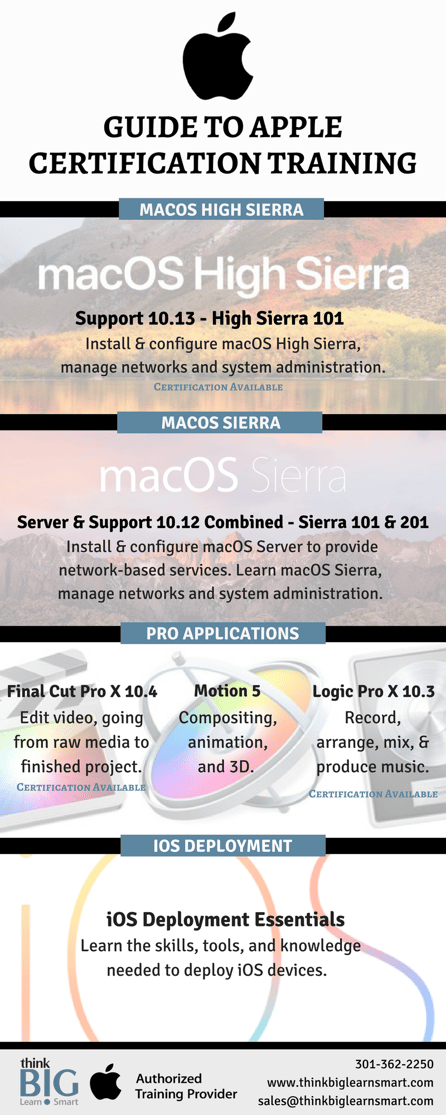 Do you want to download this infographic? Click the button on the left!
If you would like any Private Apple classes - Onsite or at ThinkB!G, then click the "Get a Quote" button on the left to submit your request and we will respond within 1 business day.
Please leave a comment below including what Apple course you are interested in attending!