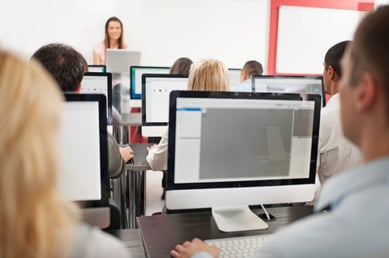 If you have ever planned a training course, you would know... it's tough to do on your own.
Well then, how should you go about planning an Adobe onsite training class?
Follow this Guide to Planning your Adobe Onsite Training Class with ThinkB!G:

1. Decide on the Adobe Technology and Course
Pick an Adobe training course that you need to know for your organization's work and/or projects. At ThinkB!G, an Adobe Authorized Training Center, we can assess your training needs and guide you on the best Adobe course to take.

2. Determine if you have Adobe Software and Hardware In-house
It can be hard to have all of the proper software and hardware needed for these Adobe training courses. ThinkB!G will help you determine if you have the right system requirements for your upcoming onsite training class.

3. Find a Location and Pick a Training Date
It is often hard to find a location and date that works for many of your organization's members, but it is possible! ThinkB!G's training logistics team can work with you to find a date that works with your schedule, with options for training delivery including at your office, at ThinkB!G's office in Columbia, MD, or Online Live!

4. Customize the Adobe Course Topics
You need to determine exactly what you need in your training course, so can have the most efficient learning. ThinkB!G is able to work with you, and their Adobe Certified Instructor in order to get an outline that best fits your needs and skill level.

5. Experience the Onsite Adobe Training
ThinkB!G can be your onsite training delivery provider from start to finish. In using our new service ThinkB!G2GO, you are able to receive computers, software, courseware, and the certified instructor all at your location! You will be able to attend and complete your onsite training course with no hassle!
So if this sounds like something that interests you, then click the Get ThinkB!G2GO button below to learn more information and/or request a quote!
Please comment below and tell us what classes you are interested in using ThinkB!G2GO for!