Infographics are a very popular way of getting data communicated by using visuals. Many people have heard of the word "Infographics" or many know it as data visualization.
Just to give you a little background, an Infographic is a visual way (chart, graph, map, list, timeline, etc.) of representing data and/or information, along with minimal text for further explanation.
Below is an Infographic that provides you with 5 Ways to Get Your Data Across Visually with Infographics Using Adobe Illustrator. This Infographic below will give you an idea of the types of Infographics that can be created.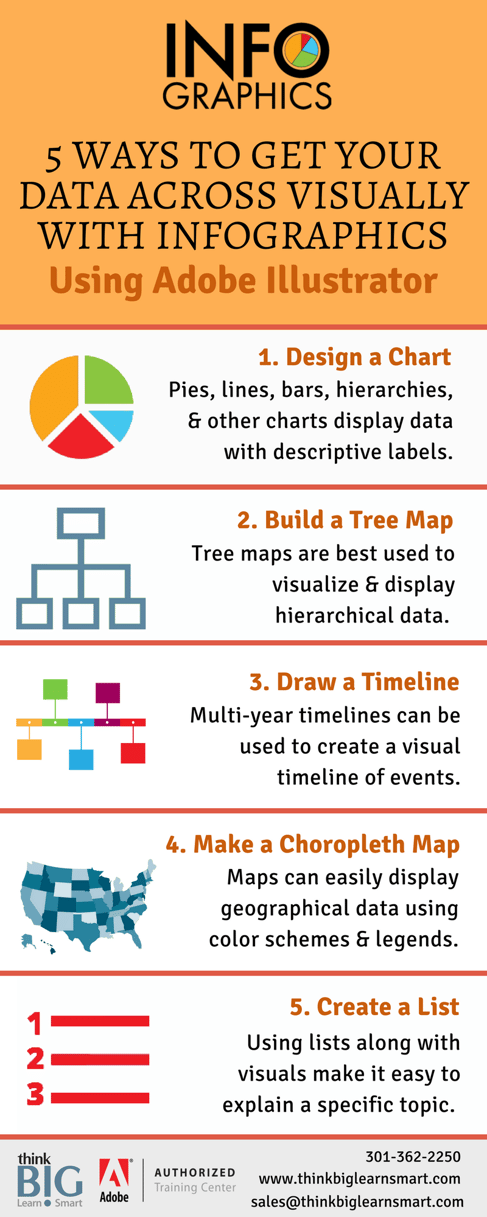 In ThinkB!G's Infographics Using Adobe Illustrator training course, you will learn how to create Infographics, such as the ones listed above. You will also learn the tools within Adobe Illustrator to design the Infographics you want to create.
If you are interested in attending this 2-day hands-on course, then click the "Learn More" button below to see the course dates, pricing, and register! If you would like a Private Infographics class - Onsite or at ThinkB!G, please click the "Get a Quote" button below to submit your request and we will respond right away.
Government GSA Pricing available!
Please leave a comment about what other ways you currently use Infographics, or how you would like to use Infographics!